This morning, I was sitting in class waiting for my professor to walk in and absentmindedly scrolling through my Twitter feed. It's often full of the latest entertainment news, gossip etc, and God forbid I miss any breaking news that could have occurred over the last eight hours while I was sleeping.
Then, I happened upon Marie Claire's tweet showcasing a photo of their new sister magazine that was released today. If you were in the New York City area, you may have gotten your hands on Branché, the pop-up magazine that Marie Claire employees were handing out at various locations in the city. But, don't worry. If you haven't gotten one yet, they'll be handing out a total of 30,000 copies tomorrow, Saturday, Monday, and Tuesday. Just look for one of these girls on the street.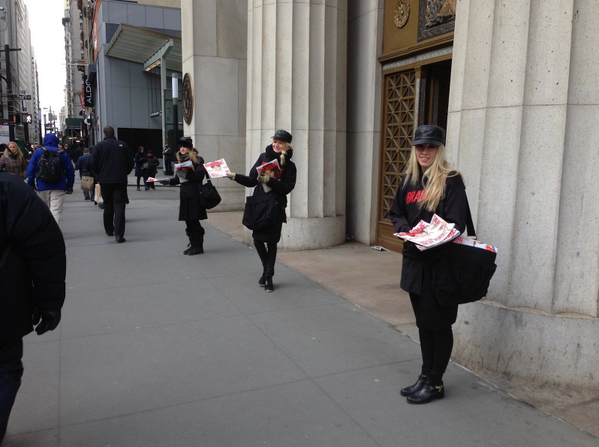 So you can imagine my dismay when I saw this tweet. It screamed a not-so-subtle reminder to me that I need (and I mean absolutely need) to live in New York City one day. All these great things are happening on the streets of New York, and here I am stuck in a middle-of-nowhere town that doesn't even have a Starbucks. I know…I have a hard life.
After I got out of class, I called my cousin who just happens to be in the city for the next few days.
"CAN YOU PLEASE GET ME A COPY OF BRANCHÉ TODAY," I practically shouted into the phone as I left her a voicemail.
She told me she would try her best, but I haven't heard from her since. This is not a good sign.
So, I'll pass the time that I spend waiting to hear from my cousin by daydreaming about one day walking the streets of the Big Apple, not as a tourist but as a New Yorker.
Anxiously waiting for my copy of Branché,
Morgan